Marie Kroll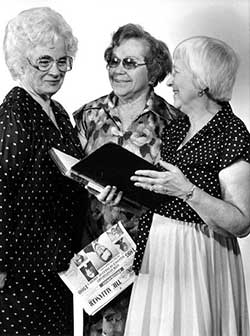 Three officers of the Alliance of Poles of America in 1980
with Marie Kroll, secretary, at the far right.
View image
Marie Kroll represents the Polish communities of Cleveland. Born in Cleveland to natives of Poland, Marie would grow up to be a very influential member of the Cleveland Polish community. She served as both the Secretary for the Alliance of Poles in America and the Treasurer for the Association of Polish Women in America.
For Further Reading:
This is one of a
series of interviews
conducted by Jeanette E. Tuve in 1986 as part of the Ethnic Women of Cleveland Oral History Project at the Cleveland State University. Originally sponsored by the CSU Women's Comprehensive Program and the History Department, and funded by the George Gund Foundation, Cleveland Memory has now digitized these fascinating interview transcripts and recordings to allow you to read the transcripts online while listening to streaming audio recordings of the interviews.