Each in Their Own Voice: African-American Artists in Cleveland, 1970-2005
Kevin Snipes interview excerpt, 13 January 2009
Instructions for controlling the program with a keyboard.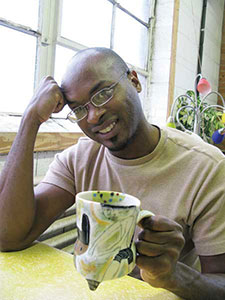 Please note that Flash Player 10 (or higher) OR an HTML 5 compatible browser as well as JavaScript is required to play this recording. If you experience problems, please check your version of Flash or update to a more current browser and make sure JavaScript is enabled.
Program Length: 04:42
Artist Kevin Snipes discusses his life and art. Born in Philadelphia, Pennsylvania, Snipes and his family moved to Cleveland, Ohio in the 1960s. Snipes distinguished himself as an artist at an early age in the public schools of Cleveland and Shaker Heights. After leaving Cleveland to attend Carnegie Mellon University, the artist returned to Cleveland to continue his education at the Cleveland Institute of Art (CIA).
Although his earliest artistic inclination was toward two-dimensional line drawing, Snipes became interested in clay sculpture and ceramics, into which he integrated his skills in drawing and design. Snipes describes his artistic style and conceptual approach, his educational experience (at Carnegie Mellon, CIA, Penland School of Craft, and the University of Florida), and the impact of Cleveland on his development as an artist.
This interview was conducted over a telephone connection.
Rights: Organizations and individuals seeking to use materials for public exhibition and/or commercial use must obtain permission from the History Department of Cleveland State University. Use of materials for educational and research purposes is considered fair use.