Each in Their Own Voice: African-American Artists in Cleveland, 1970-2005
Angelica Pozo interview excerpt, 29 October 2008
Instructions for controlling the program with a keyboard.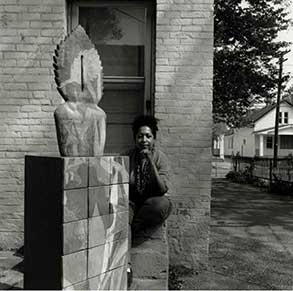 Please note that Flash Player 10 (or higher) OR an HTML 5 compatible browser as well as JavaScript is required to play this recording. If you experience problems, please check your version of Flash or update to a more current browser and make sure JavaScript is enabled.
Program Length: 03:09
Artist Angelica Pozo discusses her personal background and development as an artist. Pozo grew up in Bronx New York and attended boarding school in Long Island. Pozo first realized she had artistic ability after receiving painting lessens in the 2nd grade. Pozo studied ceramics at Moore College of Art and Design but later enrolled at Alfred University which was "ceramics heaven."
Pozo initially tried to resist outside forces as an influence on her work, focusing on ancient and primal work at first. In later years, Pozo used her Cuban and Puerto Rican identity as an important source for her work. Pozo began to develop more functional pieces of art starting with photographs that looked like landscapes to more abstract work. Pozo decided to relocate to Cleveland after visiting several times.
Pozo established a studio in Cleveland with several other artists who "energized each other." One of her favorite art pieces is the Fruits and Vegetables at Gateway, inspired by the [West Side] Market. Pozo considers her most important accomplishments as residencies in schools, being able to share experiences, and being a catalyst for community projects.
*Portrait of artist courtesy of Herb Ascherman.
Rights: Organizations and individuals seeking to use materials for public exhibition and/or commercial use must obtain permission from the History Department of Cleveland State University. Use of materials for educational and research purposes is considered fair use.