Each in Their Own Voice: African-American Artists in Cleveland, 1970-2005
Anthony Mahone interview excerpt, 13 January 2009
Instructions for controlling the program with a keyboard.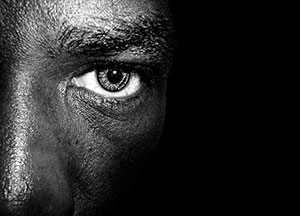 Please note that Flash Player 10 (or higher) OR an HTML 5 compatible browser as well as JavaScript is required to play this recording. If you experience problems, please check your version of Flash or update to a more current browser and make sure JavaScript is enabled.
Program Length: 04:51
Photographer Anthony Mahone discusses his life and art. Born and raised Cleveland, Ohio, Mahone spent much of his early adulthood elsewhere; first, while attending a military academy in North Dakota, and later traveling to Europe and Africa. The bulk of Mahone's education was in the state of Ohio (at Cleveland State and Ohio State Universities), where he also pursued his interest in Engineering, Physics, and History.
Mahone discusses the influence of Cleveland photographer Masumi Hayashi, as well as other faculty members at Cleveland State University. In particular, he tells a story about an assignment where Masumi had him shoot trees.
This interview was conducted over the telephone.
Rights: Organizations and individuals seeking to use materials for public exhibition and/or commercial use must obtain permission from the History Department of Cleveland State University. Use of materials for educational and research purposes is considered fair use.