Each in Their Own Voice: African-American Artists in Cleveland, 1970-2005
Michaelangelo Lovelace interview excerpt, 28 October 2008
Instructions for controlling the program with a keyboard.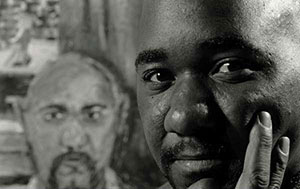 Please note that Flash Player 10 (or higher) OR an HTML 5 compatible browser as well as JavaScript is required to play this recording. If you experience problems, please check your version of Flash or update to a more current browser and make sure JavaScript is enabled.
Program Length: 03:30
In this excerpt, artist Michaelangelo Lovelace (b. Michael Anthony Lovelace) discusses his most infamous painting entitled, "My Hometown." Of note is the artist's recollection of the controversy surrounding his mural "My Hometown," which was installed at the Cleveland Clinic, but which was deemed racist by some employees of that institution, leading to aggressive coverage by local television media. The mural depicted Cleveland as a racially divided city, with blacks living on the east side and whites on the west side.
*Portrait of Michaelangelo Lovelace courtesy of Herbert Ascherman.
Rights: Organizations and individuals seeking to use materials for public exhibition and/or commercial use must obtain permission from the History Department of Cleveland State University. Use of materials for educational and research purposes is considered fair use.