Each in Their Own Voice: African-American Artists in Cleveland, 1970-2005
Miller Horns interview excerpt, 28 October 2008
Instructions for controlling the program with a keyboard.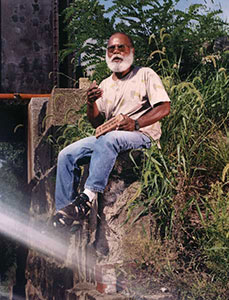 Please note that Flash Player 10 (or higher) OR an HTML 5 compatible browser as well as JavaScript is required to play this recording. If you experience problems, please check your version of Flash or update to a more current browser and make sure JavaScript is enabled.
Program Length: 03:43
Miller Horns' artistic ability helped him to cope with dyslexia in elementary school, the teachers allowed him to draw while others had lessons. Mark Sopliln at University of Akron, encouraged him to study art at the college level. He was accepted at CIA and spent five years commuting by Greyhound bus from Akron to Cleveland to attend school. His education gave him an appreciation of other art forms, especially dance and theater.
He became interested in electrostatic art when he realized that few artists were working with the medium. He attended workshops to learn more about this new art form in the 1980s. Horns manipulates photographs, enlarging them and playing with colors and textures. By creating large images, Horns uses distance and space to invite the audience into his world. His work is often autobiographical, a place where he can share the good and bad experiences of his life. He believes the best art leaves the audience asking questions about the work and the creative process of the artist.
His latest work is entitled "Nightmare: Falling out of Grace," in which he portrays a figure falling from a tall building in New York, lit by floodlights. People may relate to the dream of falling, others may find the image reminiscent of 9/11. Sharing his work with the public is often scary, Horns notes, it can feel like being crucified, put on display for people to judge and critique. He has been criticized by not being "black" enough in his work, but feels his art goes beyond his color. He has written a play based on his experiences on the Greyhound commute called "Just Passing Through," that was given a staged reading at Karamu Theatre. Horns hopes, someday, to see this work produced on stage.
Rights: Organizations and individuals seeking to use materials for public exhibition and/or commercial use must obtain permission from the History Department of Cleveland State University. Use of materials for educational and research purposes is considered fair use.