Each in Their Own Voice: African-American Artists in Cleveland, 1970-2005
Kevin Everson interview excerpt
Instructions for controlling the program with a keyboard.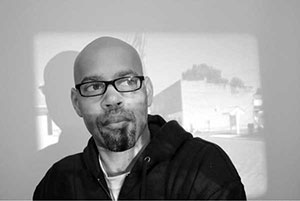 Please note that Flash Player 10 (or higher) OR an HTML 5 compatible browser as well as JavaScript is required to play this recording. If you experience problems, please check your version of Flash or update to a more current browser and make sure JavaScript is enabled.
Program Length: 04:05
Mansfield native, Kevin Everson, talks about discovering his artistic ability in college and his interest in photography and film. Everson admired the discipline and creativity of his art professors, and decided that he wanted to earn a living by teaching and creating art. He attended Akron University and then entered the Masters Program at Ohio University. He taught art at Akron University and Oberlin College and is currently an instructor at the University of Tennessee in Knoxville.
Art films are his main focus at the present time. His subjects are people and objects that represent black, working class, culture. His work has received international attention, he has exhibitions coming up at the Pompidou Museum in Paris and at an art show in Rotterdam. Everson did work with a Widelux camera, taking street shots of people and scenes and manipulating the photos to create art, not to recreate reality. Everson collaborated with fellow art professor, Michael Loderstadt, on a project using a pinhole camera in the back of a truck. Everson thinks Loderstedt is one of the most talented artists he knows.
Everson is currently finishing a film he shot in three black neighborhoods in Mansfield, riding with snow plow drivers. He admits that finances are the biggest challenge for him as a working artist. He credits word of mouth for promoting his work. He tries to create and show work on a consistent basis, and urges his art students to do the same.
This interview contains language which some listeners may find objectionable. By accessing the audio file, the user acknowledges receipt of this message.
*Portrait of Kevin Everson is courtesy of Jen Fariello Photography.
Rights: Organizations and individuals seeking to use materials for public exhibition and/or commercial use must obtain permission from the History Department of Cleveland State University. Use of materials for educational and research purposes is considered fair use.