Each in Their Own Voice: African-American Artists in Cleveland, 1970-2005
Dexter Davis interview excerpt
Instructions for controlling the program with a keyboard.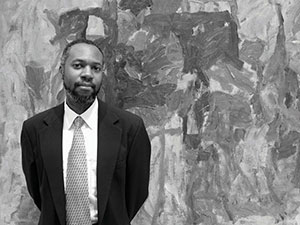 Please note that Flash Player 10 (or higher) OR an HTML 5 compatible browser as well as JavaScript is required to play this recording. If you experience problems, please check your version of Flash or update to a more current browser and make sure JavaScript is enabled.
Program Length: 03:22
Artist Dexter Davis speaks about the process he uses when creating art and how he uses collage in his work. He considers his work very expressive because he feels that it is "without boundaries." He notes that he likes the ideas of Abstract Expressionists more than their work but there are certain artist such as De Koonig and Fuertes that he looks to. Davis describes his passion for art and thinks that his "work is from the heart." Date of interview is unknown.
Rights: Organizations and individuals seeking to use materials for public exhibition and/or commercial use must obtain permission from the History Department of Cleveland State University. Use of materials for educational and research purposes is considered fair use.