Each in Their Own Voice: African-American Artists in Cleveland, 1970-2005
Cushmere Bell interview excerpt, 24 December 2008
Instructions for controlling the program with a keyboard.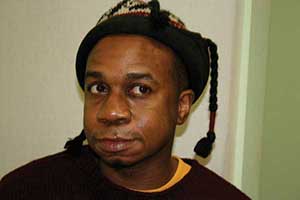 Please note that Flash Player 10 (or higher) OR an HTML 5 compatible browser as well as JavaScript is required to play this recording. If you experience problems, please check your version of Flash or update to a more current browser and make sure JavaScript is enabled.
Program Length: 04:41
Artist Cushmere Bell describes his life and career. Raised in Cleveland, Ohio, Bell knew he wanted to be an artist at an early age. An early interest in comics and a "part-time job" of drawing commissioned sports scenes from the covers of Sports illustrated magazine for classmates typified his earliest artistic activities. After "discovering Impressionism in 12th grade," Cushmere decided to pursue a career in painting. Encouraged by his teachers at Shaker Heights High School, Bell attended the Cleveland Institute of Art, graduating with a major in photography and a minor in painting.
The artist discusses his experiences as a student, his personal challenges growing into adulthood, and formative moments and people in his life. He also describes his own work and influences in some detail, relating his artistic role as "a stenographer recording in hieroglyphics... [and] relics of the times." Additional subjects include graffiti in Cleveland, WRUW 91.1 (Case Western Reserve University radio station), the artist's personal mentors, and the creative process.
Rights: Organizations and individuals seeking to use materials for public exhibition and/or commercial use must obtain permission from the History Department of Cleveland State University. Use of materials for educational and research purposes is considered fair use.