Each in Their Own Voice: African-American Artists in Cleveland, 1970-2005
Robert Banks, Jr. interview excerpt, 03 December 2008
Instructions for controlling the program with a keyboard.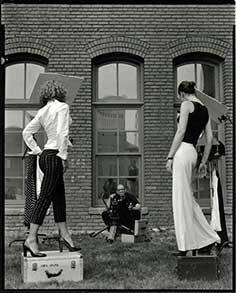 Please note that Flash Player 10 (or higher) OR an HTML 5 compatible browser as well as JavaScript is required to play this recording. If you experience problems, please check your version of Flash or update to a more current browser and make sure JavaScript is enabled.
Program Length: 03:59
Filmmaker, Robert C. Banks, Jr. discusses his proudest accomplishments as an artist. A lifelong Clevelander, Banks attended the Cleveland School of the Arts (CSA), where he learned many of the fundamentals of art and film. Despite having spent some years pursuing higher education at the Cleveland Institute of Art, Cleveland State University, and elsewhere, Banks credits much of his filmmaking expertise to self-education and collegial exchanges from within the Cleveland art scene.
The artist also discusses several of his own films, his views on filmmaking as an art and as a profession, the state of art and filmmaking in Cleveland, and his approach to teaching film students at Cuyahoga Community College and elsewhere. As a filmmaker, Banks prefers to work with celluloid film and extensively discusses the shift from celluloid to digital production, weighing the pros and cons of each. Banks discusses his work in the context of punk rock and the do-it-yourself ethic.
*Portrait of the artist courtesy of Herb Ascherman.
Rights: Organizations and individuals seeking to use materials for public exhibition and/or commercial use must obtain permission from the History Department of Cleveland State University. Use of materials for educational and research purposes is considered fair use.