Each in Their Own Voice: African-American Artists in Cleveland, 1970-2005
Lawrence Baker interview excerpt, 03 December 2008
Instructions for controlling the program with a keyboard.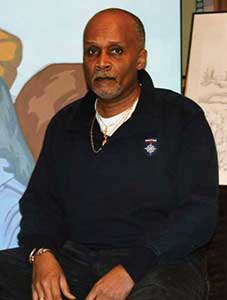 Please note that Flash Player 10 (or higher) OR an HTML 5 compatible browser as well as JavaScript is required to play this recording. If you experience problems, please check your version of Flash or update to a more current browser and make sure JavaScript is enabled.
Program Length: 01:44
Artist Lawrence Baker discusses his development as an artist. Born in Jacksonville Florida in 1947, Baker moved to Cleveland in the late 1960s. He first became interested in art after watching his brother draw cartoons out of comic books. Lacking formal art education in high school, he didn't recognize that he had artistic ability until after his first year of college and wanted to see where he could go with it.
Art is Baker's own endeavor, and he considers himself as the sole motivator for his artwork. Baker challenges himself to find individuality in his artwork and to be recognized by the art community. Baker believes in always being persistent and maintaining competition with other artists. Baker identifies himself as an artist first, and then African-American. Recently, Baker made a transition from painting to drawing, but maintains a correlation between the two mediums.
Rights: Organizations and individuals seeking to use materials for public exhibition and/or commercial use must obtain permission from the History Department of Cleveland State University. Use of materials for educational and research purposes is considered fair use.