Each in Their Own Voice: African-American Artists in Cleveland, 1970-2005
Anna Arnold interview excerpt, 29 October 2008
Instructions for controlling the program with a keyboard.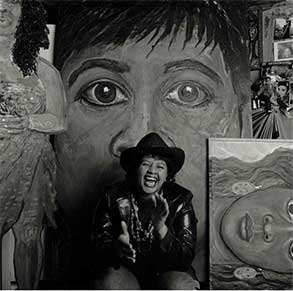 Please note that Flash Player 10 (or higher) OR an HTML 5 compatible browser as well as JavaScript is required to play this recording. If you experience problems, please check your version of Flash or update to a more current browser and make sure JavaScript is enabled.
Program Length: 04:22
Cleveland portrait artist, Anna Arnold, discusses her love of drawing and painting as a child, encouragement from her parents and teachers, and her ambition to attend the Cleveland Institute of Art, and become a "famous Cleveland artist." Arnold shares memories of the process her father would take in painting a house, and how she uses a process in creating her art.
*Portrait of the artist courtesy of Herb Ascherman.
Rights: Organizations and individuals seeking to use materials for public exhibition and/or commercial use must obtain permission from the History Department of Cleveland State University. Use of materials for educational and research purposes is considered fair use.