The d.a. levy collection
Audio Reading of Cleveland Undercovers (24:26 min.)
Instructions for controlling the program with a keyboard.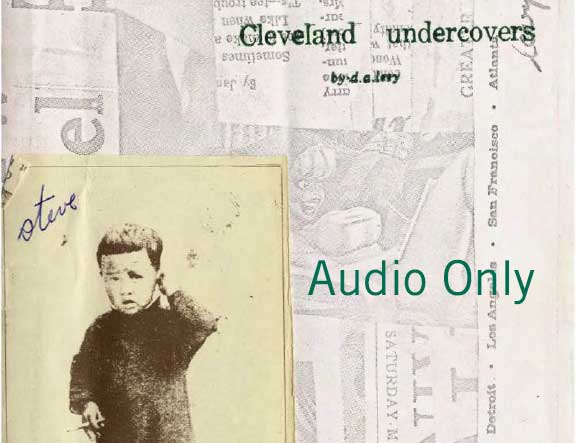 Please note that Flash Player 10 (or higher) OR an HTML 5 compatible browser as well as JavaScript is required to play this recording. If you experience problems, please check your version of Flash or update to a more current browser and make sure JavaScript is enabled.
Performed by Ingrid Swanberg and Tom Kryss, 2011
Listen to d.a. levy's epic Cleveland poem, read in parts alternating between Ingrid Swanberg and Tom (t.l) Kryss, both  poets and close friends of d.a. levy.  Special thanks to Ingrid and Tom for their generosity of time and talent reading and recording the poem and also to artist Paul Druecke for recognizing its importance and organizing this most fitting collaboration.
Cleveland Undercovers was originally published by levy in 1966 through his Seven Flowers Press in a run of 500 mimeographed copies, 65 which included special one-of-a kind "freak" covers. View examples of covers and read along with digital versions of the poem.
More about this recording…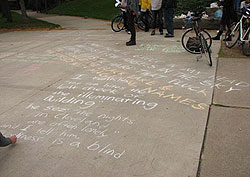 dambl event, October 15, 2011. Covering the street with lines from levy's poems.
Recording of Cleveland Undercovers was initiated by Milwaukee artist Paul Druecke for use at an October 2011 public tribute to d.a. levy held in conjunction with and in support of The Cleveland Urban Design Collaborative's "dambl" (d.a. memorial bike lane) effort. The event included an organized bike ride along Cleveland streets that united riders from east and west sides culminating at a central location near the campus of Cleveland State University. The recording, as well as audio of levy himself reading his poems, was played overhead as participants "covered the city with lines" along city sidewalks.
"I have a city to cover with lines…" — d.a. levy, Cleveland Undercovers, 1966
Please note that Flash Player 10 (or higher) OR an HTML 5 compatible browser is required to play these recordings. If you experience problems, please check your version of Flash or update to a more current browser.