Streaming Media in Cleveland Memory
Muhammad Ali at Glenville High School (Cleveland, Ohio)
Instructions for controlling the program with a keyboard.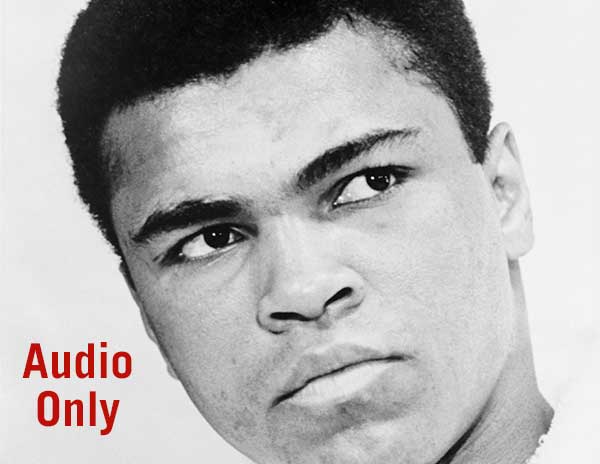 Please note that Flash Player 10 (or higher) OR an HTML 5 compatible browser as well as JavaScript is required to play this recording. If you experience problems, please check your version of Flash or update to a more current browser and make sure JavaScript is enabled.
Recording Date: May 25th, 1971
Program Length: 37:39
Format: Audio Recording, MP3
About This Recording
On Friday, May 25th, 1971, Cleveland's Glenville High School was celebrating the last day of their 3rd annual week-long Eusi Sikukuu (Black Festival). At an afternoon assembly of the student body in the school gymnasium, Principal Leo Clayton asked for attention from the noisy crowd, then told them he had a surprise guest to announce: "I've somewhat kept this as a surprise, and I gather that a surprise it is. It is my distinct pleasure to present at this time Muhammad Ali."
When the screams died down at last, Ali took the stage and began to speak, holding his audience rapt for the duration of a 35-minute speech that he had titled "Self-Respect". At this point in his career, Ali commanded an estimated $80,000 per year for speaking before college student groups. He appeared in Glenville without a fee and at his own expense.
Almost exactly 45 years later, Muhammad Ali died. A few weeks after that, a dusty homemade cassette tape was retrieved from a file cabinet at Cleveland State University's Michael Schwartz Library. The handwritten label read simply "Muhammad Ali at Glenville". The coincidence is as surprising as the content. As we listened, we realized that we had stumbled across an astonishing artifact, and we are delighted to have preserved this moment in Cleveland history.
This remarkable speech is as relevant now as it was then, and it deserves to be widely disseminated. We hope you'll share it, and we very much hope that if you were there at Glenville High School in 1971, you'll get in touch.
Photo Credit: Bust photographic portrait of Muhammad Ali in 1967. World Journal Tribune photo by Ira Rosenberg. This image is available from the United States Library of Congress's Prints and Photographs division under the digital ID cph.3c15435.